Cybercrime remains a growing threat to financial firms, even as the methods they use to connect and do business evolve. "Financial services firms are 300 times as likely as other companies to be targeted by a cyberattack," BCG reports. Small firms are at greater risk than others: employees at companies with fewer than 100 personnel experience 350% more social engineering attacks than employees at large enterprises.
Too many hedge funds, quant funds, and other financial services organizations struggle to secure their work environments as their employees connect from different locations and as their internal security resources remain limited. Fortunately, by providing secure access to applications and data from any location, SASE can help financial firms overcome the security challenges posed by both evolving threats and a decentralized workforce.
In this article, we explore the future state of SASE (pronounced "SASS-ee") in the financial service industry. We discuss strategies for SASE adoption, with recommendations and key takeaways to help with your own SASE migration. As we will find, different SASE models can provide different types of specialized protection—for example, Option One Technologies offers SASE that is purpose-built for financial services firms.
The State of Cybersecurity among Financial Firms
"The internet was designed without security in mind," says David Holmes, Senior Research Analyst at Forrester in the research firm's 2021 take on the SASE model. "For 25 years, we've just been putting Band-Aids on top of Band-Aids, hoping to stop the cybersecurity bleeding, but the carnage gets worse every year."
Now, network approaches and technologies simply cannot offer the sophisticated security capabilities companies need. Traditional architectures feature too many disparate technologies, preventing them from scaling in cloud environments. They have gaps in security depending on users' locations, and they provide poor user experiences due to outdated systems for security enforcement. But most critically, they aren't agile enough to prevent, detect, and respond to today's emerging threats.
Security Risks Grow with Changes in How We Work
Every business is a potential target for cybercriminals, but financial institutions are at heightened risk due to criminals' revenue potential. Now, these factors raise serious concerns for financial services firms transitioning to decentralized or remote work models.
SASE provides financial firms with a new opportunity to rethink their security architectures and build them for the future. Specifically, SASE can help firms address many of the challenges they face with traditional network approaches by:
establishing security enforcement at the edge: SASE can provide comprehensive protection for all users, regardless of location.
improving visibility and control: SASE can give firms the ability to see and manage all activity in their environment, providing greater visibility into potential threats.
increasing agility: SASE can help firms quickly adapt to changing threats and business needs, without having to overhaul their entire security infrastructure.
SASE solutions that are purpose-built for financial services can also help them meet regulatory compliance requirements, such as those set by the SEC and FINRA.
How SASE Works
Secure Access Service Edge (SASE) is a holistic architecture that combines network and security services in the cloud, providing employees with secure access to a company's digital resources from any location. As Gartner describes, "digitalization, work from anywhere, and cloud-based computing have accelerated cloud-delivered SASE offerings to enable anywhere, anytime access from any device."
SASE consists of critical modern cybersecurity capabilities, including:
software-defined wide-area networks (SD-WAN)
secure web gateways (SWG)
cloud access security brokers (CASB)
firewall-as-a-service (FWaaS)
zero trust network access (ZTNA)
identity and access management (IAM)
The SASE model combines these capabilities into a single, integrated cloud-delivered service. SASE architecture streamlines security by recognizing users and devices from any location; its unique, policy-based security ensures each user can access only their appropriate applications and data.
Benefits for Growing Financial Firms
Although all enterprise companies can benefit from SASE, it is especially advantageous for small and growing financial firms. That's because these firms needn't have their own IT infrastructure, nor their own robust security capabilities.
"SASE enables saving on equipment as well as human and financial resources with minimum hardware requirements," as Forbes describes. "While helping reduce complexity and cost, it can also improve operations and provide full-fledged security."
Let's consider six key benefits SASE provides growing financial firms:
Cloud Visibility: Security teams can visualize communications between users, resources, and transactions, and quickly recognize then resolve breaches and threats.
Cloud Network Threat Detection: SASE features an agentless approach to detecting and mitigating risks of multiple types and from multiple sources: supply chains, advanced persistent threats (APTs), and others.
Cloud Storage Threat Protection: Security teams can prevent attacks from ransomware, laterally moving malicious code, and others with intelligent storage protection.
DNS Layer Security: SASE enforces security at the domain name system (DNS) layer, preventing DNS-based attacks such as cache poisoning, denial of service (DoS), and data exfiltration.
Roaming Endpoints Protection: SASE's zero trust network access (ZTNA) capability provides security for users no matter how or where they choose to connect.
Lastly, SASE is a differentiator for growing financial firms that can provide them with a competitive edge. SASE can help firms quickly adapt to changing business needs and threats, without having to overhaul their entire security infrastructure.
Getting Started with Your Strategic Plan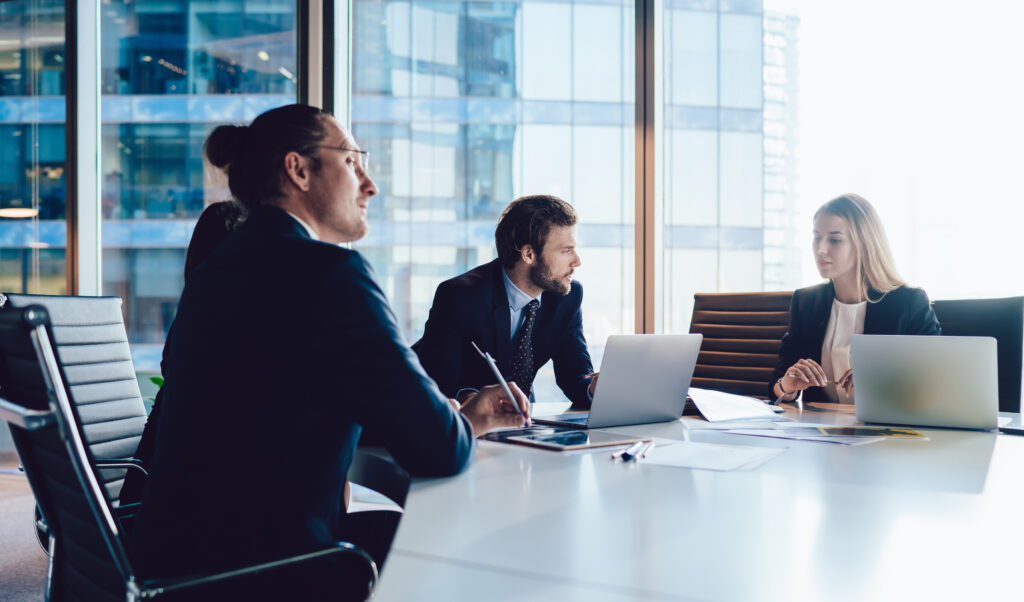 SASE adoption may seem complicated at first due to its many capabilities. But since SASE is delivered as a service, it is much simpler to implement than traditional security solutions.
SASE can be deployed incrementally, so firms can start with the capabilities that address their most pressing needs and add others over time. Most change requirements center around preparing one's team members and familiarizing them with SASE rather than making substantial changes to existing IT resources. Forbes recommends focusing on "employee participation, a strong organizational attitude, and constant supervision," for example.
CISOs at small- to mid-sized financial firms should begin planning for SASE adoption by taking stock of their current cybersecurity posture and identifying gaps. They should also consider which SASE capabilities would be most beneficial for their firm and develop a roadmap for adoption. SASE providers often provide consulting services as part of their SASE offerings to ensure financial firms have the familiarity and readiness they need for long-term success with SASE solutions.
FIve Steps to Making Your Transition to SASE
Once they have a strategic plan in place, CISOs can begin migrating to SASE incrementally, starting with the capabilities that will have the biggest impact on their firm. Here are five steps security leaders at growing financial firms can take as they transition to SASE:
Identify your security needs. Assess your current cybersecurity posture and identify gaps, especially if you are transitioning to a new work model; adopting new digital resources, applications, or capabilities; or anticipating growth in employees or your business.
Prepare your team. Define roles for your employees in the SASE adoption process and provide training to ensure they understand SASE concepts and how SASE will impact their work.
Familiarize yourself with SASE providers. Research SASE vendors to find the best fit for your firm's needs. The right provider will provide for all of your existing and anticipating security needs, but also provide guidance on how to get started and what to expect with your transitions to SASE.
Deploy SASE incrementally. Begin migrating to SASE, starting with key capabilities. Work with your provider to customize SASE architecture to meet your specific needs. Familiarize team members with new capabilities as they emerge, ensuring you address their questions and concerns immediately. Building their familiarity will help prevent team members from attempting to bypass security measures later.
Monitor and adjust. Constantly monitor SASE performance to ensure it is providing the desired results. Work with your provider to make adjustments to SASE capabilities as needed, and ensure team members are following SASE best practices.
Next-Generation Cybersecurity, within Reach
Cybercriminals don't give small firms a break. That's why SASE adoption is so critical for growing financial firms. But familiarizing oneself with SASE can still seem daunting.
Fortunately, leading SASE providers make incremental SASE adoption easy. IT and security leaders at these firms can focus on what they do best: getting their line-of-business teams on board for security solutions that contribute to their own long-term success.
Choose SASE with Option One Technologies
Option One Technologies specializes in SASE solutions for financial firms. Our SASE platform is designed to address the unique cybersecurity needs of small- to mid-sized financial firms. Best of all, we work closely with our clients to ensure they have the familiarity and capabilities they need to ensure world-class protection while they focus on their core business. Contact one of our SASE advisors today to learn more.